Our herd bulls are offspring of S Whitlock 179#, SydGen Fate 2800, KCF Bennett Southside, Quaker Hill Rampage, Rocking R Foundation, Sitz Upside and Connealy Confidence. All of them have wonderful docile personalities. Second, they show great length and conformation. Their EPDs feature calving ease and low birth weights while still being well-rounded on growth and carcass merits.
GB Murphy X is a 2017 son of Rocky and has Ten X on the dam side. His easy going personality has made him a ranch favorite. Fortunately, he has the breeding, EPDs and statistics to back it all up!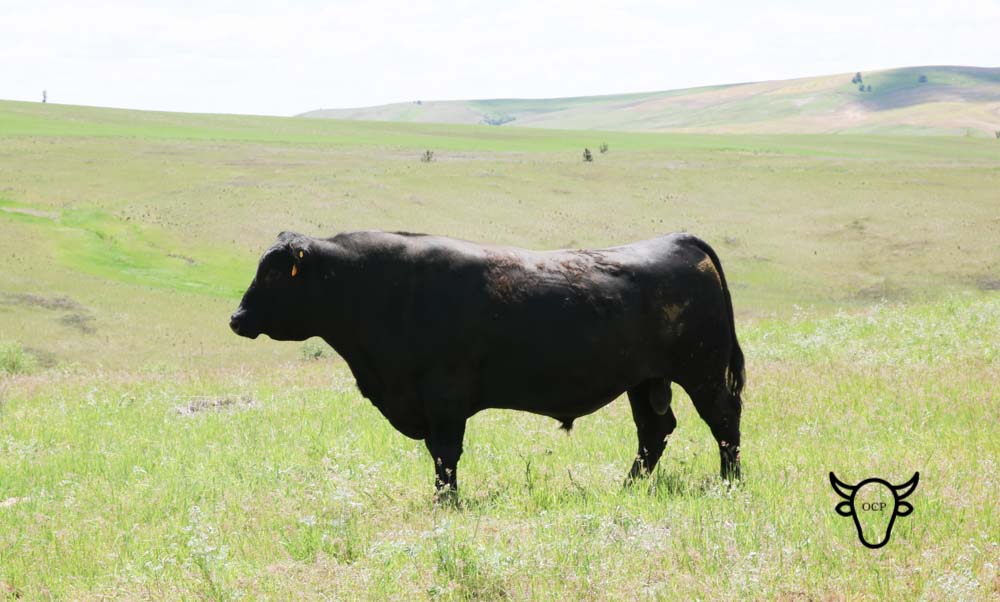 No matter what the angle, Notch or Krein Upside Captain 441, is a photogenic bull. His calves have done very well here with medium birthweights and superior growth.
A younger picture of Notch. His legs and feet are perfect with the feet scoring 5 and 5. He is sired by the powerhouse Sitz Upside 547W. He is still at work in local commercial herds.
Rocky, Rocking R Foundation 547, is shown here in May 2016. His crop of calves were extremely docile and exhibit superior growth. He was a WCA Bull Test standout for 2016.
Noble, BK 0100 Confidence, and grandson of the great Conneally Confidence, is a gentle giant. His heifers in our herd have proven fertile and are great mothers. He is still working for commercial herds.